julian bedel de fueguia 1833 imbues his perfumes with medicinal plants and botanical research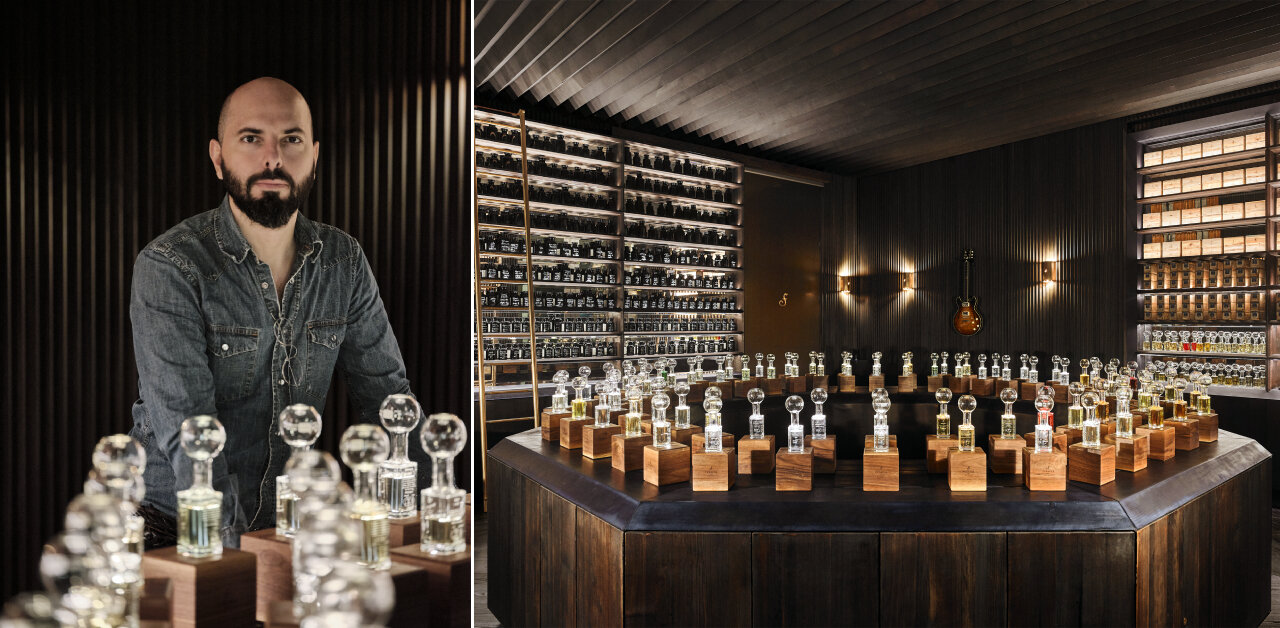 Fueguia 1833 in Milan
On entering the Milanese workshop of Fuegia 1833 presents a facet of Julian Bedel, the mastermind behind the perfumery. The lush mahogany carpeting of the interior complements with the glow of warm light streaming from ceiling to floor shelving. Rows of scents greet anyone who graces the shop, and notes of floral, woody, and smoky scents – to name a few – are part of the air one breathes. Inside and out, the breath becomes lighter as you stay in the Milanese lair of Fueguia 1833, the presence of Bedel's know-how in perfumery spreading.
Since the brand's inception in 2010, Bedel has been committed to adopting only natural ingredients for its fragrances, the majority of which are being used for the first time in perfumery. Fueguia 1833 only manufactures 400 bottles per batch and per series due to the scarcity of these ingredients. More than 100 perfumes are currently available in the range, grouped into eleven collections: Alquimia, Antropologa, Aquilaria, Armonas, Destinos, Fábula Fauna, Linneo, Literatura, Muskara, Personajes, and the new El Mundo de los Ouds.
The heart of the brand is found in Patagonia, in its unspoiled territories and among the domination of nature in all its forms. Such an environment cultivates Bedel's ambition to use – and maintain – natural resources to drive his creations, all of which are grown and distilled with the help of the Patagonia community. Fueguia 1833 is inspired by Argentina, the region being an unlimited source of stimuli for brewing organic blends, and the brand presenting itself as a tribute to the pungent culture of history, art, music and environment of South America.
pictures of Fueguia 1833
Approach to sustainability
Warmth and sensuality characterize the universe of Fueguia 1833 from perfumes to diffusers. From there, he adorns his personality with the narrative of sustainability, all through actions rather than words. Fueguia 1833 fragrances deliberately lack polycyclic musk compounds – elements widely used in perfumery that have been dubbed to cause potential health damage to aquatic species – and have long since replaced them with biodegradable plant elements.
Fueguia 1833 formulations contain musk of vegetable origin, ethanol of organic origin and the mixture of essences that undergoes long maceration processes. Fragrances are free of UV filters, synthetic preservatives and dyes, animal-derived ingredients, animal testing and phthalates. The local communities that Bedel and its brand work with cultivate and distill the plant species infused into the fragrances. Such an initiation remains possible thanks to a collaboration with HelpArgentina, a non-profit association founded in 2002 by Bedel supporting organizations that promote the social development of Argentine territories.
By imprinting his signature and meticulousness in his creations, Bedel supervises the research of aromatic and medicinal plants found in the world. To fulfill his arduous but dignified process, he opened Fueguia Botany in 2016, a fifty-acre plantation in Uruguay where more than a hundred aromatic plants, native to South America, are grown. Botany includes a fully equipped laboratory for extraction and uses supercritical fluid CO2 technology, which distills and extracts the unprecedented exotic ingredients by applying low temperature and avoiding the use of hexane and other solvents which often harm to the environment.
For each perfume purchased, a wooden box is its home, handcrafted by student carpenters in Patagonia or in a carpentry inside the Fueguia 1833 factory in Milan. Each sturdy wrap comes from the wood of fallen trees in Patagonia. As for the liquid's recyclable glass bottles, the brand uses only FSC-certified acid-free paper and soy-based ink. The extrasensory know-how gives customers the virtues around which Fueguia 1833 revolves, superimposed by the notes of medicinal plants and species distilled and bottled at a steady pace.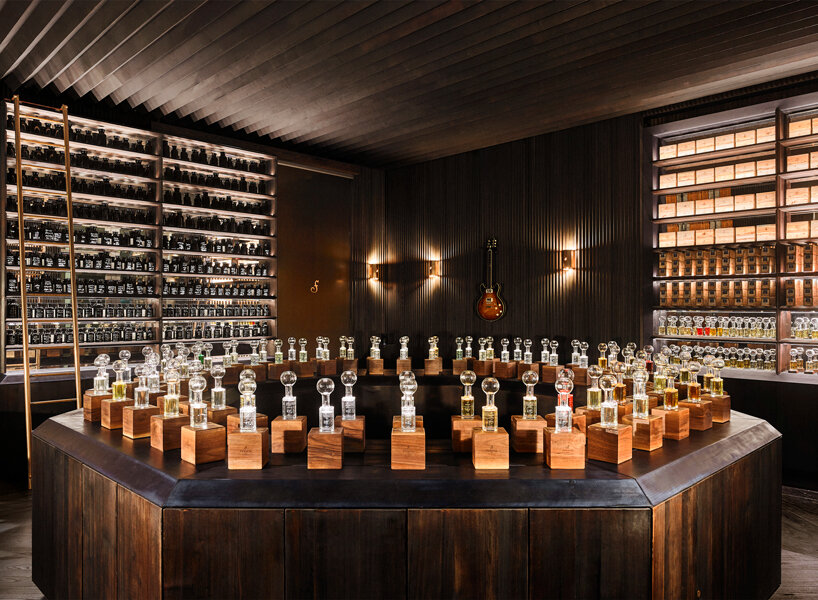 julian bedel de fueguia 1833 imbues his perfumes with medicinal plants and botanical research
designboom with julian bedel
When Designboom spoke with the Argentinian craftsman, he told us about his decision to give birth to an artistic installation in his perfumeries around the world, the basis of a community creation where we come to linger, close our eyes for a moment, smell his house perfumes and understand the philosophy that Bedel seeks to manifest. The concept continues and establishes the branches of his workshop, from London to Japan.
In Milan, a hexagonal sculpture made mostly of wood takes up the center of the space, the heart that displays the concoction Bedel and his team have curated so far. Clear glass tubes house an earthy, sweet liquid that speaks of luxury and sophistication, the pigment resulting in the fragrances from the use of natural ingredients that Fueguia 1833 respects.
On closer inspection, handwritten details appear in white marker on the body of the bottles. The capped bottles then put on a show for customers as the in-house team places each glass of perfume on square wooden boxes with a hexagonal installation. Through such display, the perfumery infuses art into its business stunts as a testament to its founder's botanical exploration and creation.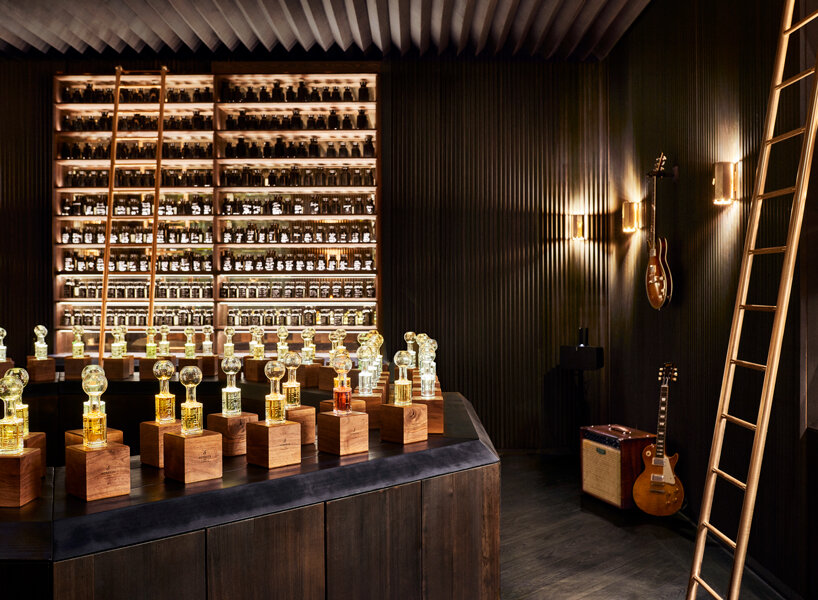 Milanese shop in Fueguia 1833
go back to the roots
From curiosity to reality, the birth of Bedel's reverence for the influence of fragrances on humans and the promotion of the essence of natural resources and ingredients paved the way for the establishment of Fueguia 1833 in Buenos Aires. in 2010. Bedel took its brand name from scientific explorations and the encounter between naturalist Charles Darwin, navigator Robert Fitz Roy, and Tierra del Fuego native 'Fueguia Basket'.
Bedel comes from a family of artists with his father and brothers indulging in painting and sculpture. His affinity for art has always been alive, but in the past he confessed to Designboom that he couldn't make a living from it. He juggled his art-making side with a branding business that became his bread and butter. Most of the time, he was honing his skills in arts and crafts, including guitar making.
His father had a workshop in their house which allowed Bedel to play with raw materials such as wood and pigments. Once his father handed him Linda Brown Buck and Richard Axel's text on the olfactory bulb genome and soon he began to understand and invest his time in understanding how the brain works once it comes into contact with volatile molecules and how humans relate to their environment.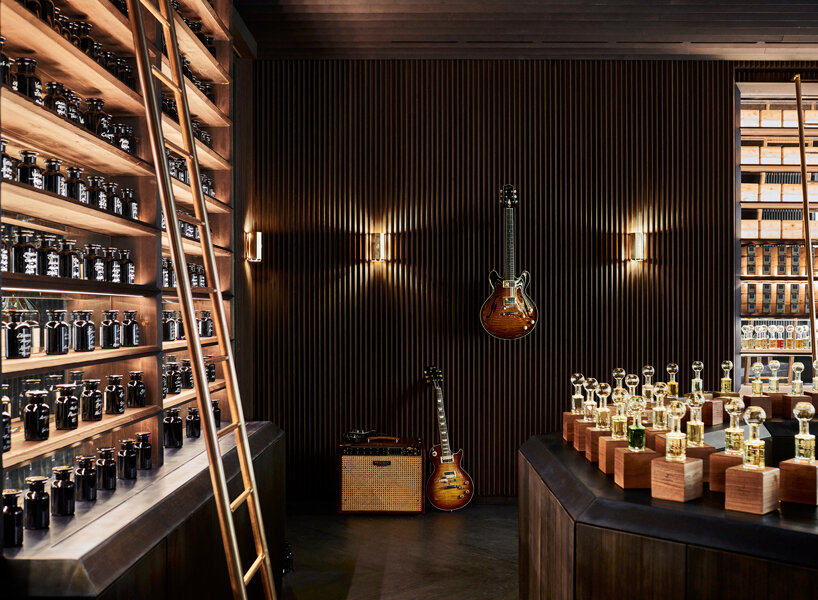 Fueguia 1833 explores perfumes through botanical research
a tribute to the ancestors
"No sense activates as many parts of the brain and therefore creates as many reactions as the sense of smell" Bedel tells Designboom. "When you are impacted by an ingredient, you start producing hormones. It can excite you or relax you, and at the same time it will give you a change in the perception of time. It also activates memory, leaving a fingerprint in your history. When I realized the power of this medium, I immediately knew that I wanted to work with it. This added to the fact that my family is also very agricultural, so we had some spectacular properties in the middle of Argentinian Mesopotamia where my brothers and I spent our summers helping with the harvest and working in the fields.
Bedel shares that Fueguia 1833 acts as a tribute to his naturalist and writer ancestors. 'Louis Bedel, Henry D'orbigny, Maurice Bedel, René Bedel and Filiberto Oliveira de Cézar. They traveled a world on their own and left a unique imprint of their singular and curious minds. Fueguia 1833 was born from the association between Europe and South America, born centuries ago. Continuing our tradition, we identify native species to design and create in Buenos Aires and Milan. Create the fragrances, which reflect the exotic diversity of South American natural treasures," he shares.
If Bedel is asked how he can describe his perfumery, his creative and artisanal self will identify Fueguia as a proposition for wandering minds, sensitive to the call of reminiscence.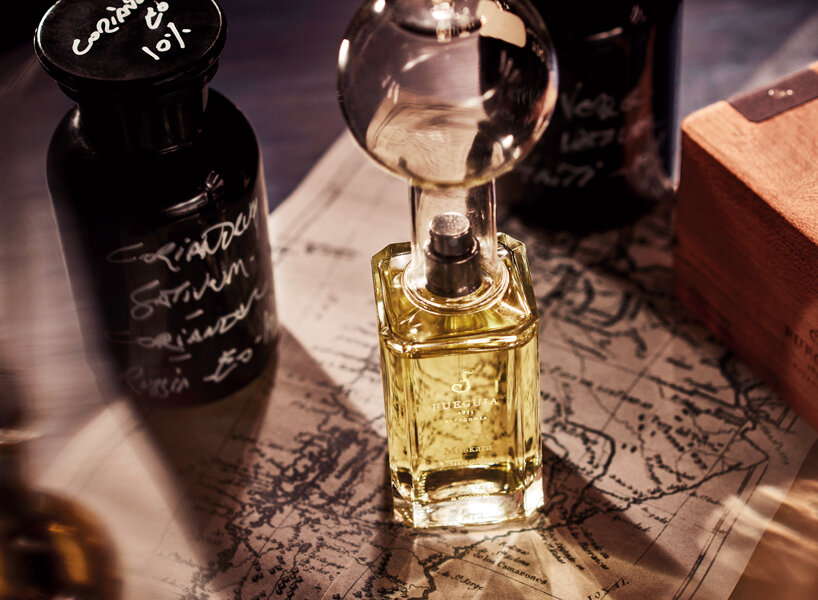 glass perfume bottle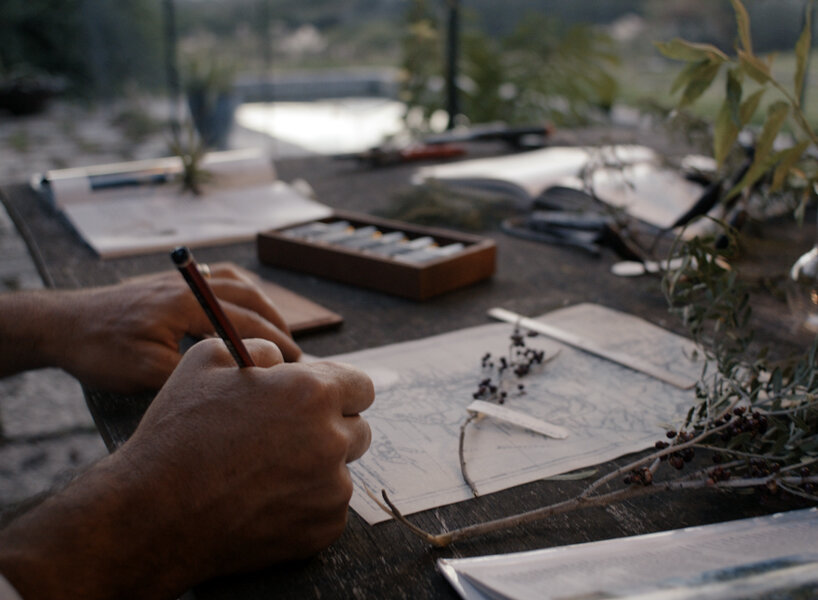 Fueguia Laboratory 1833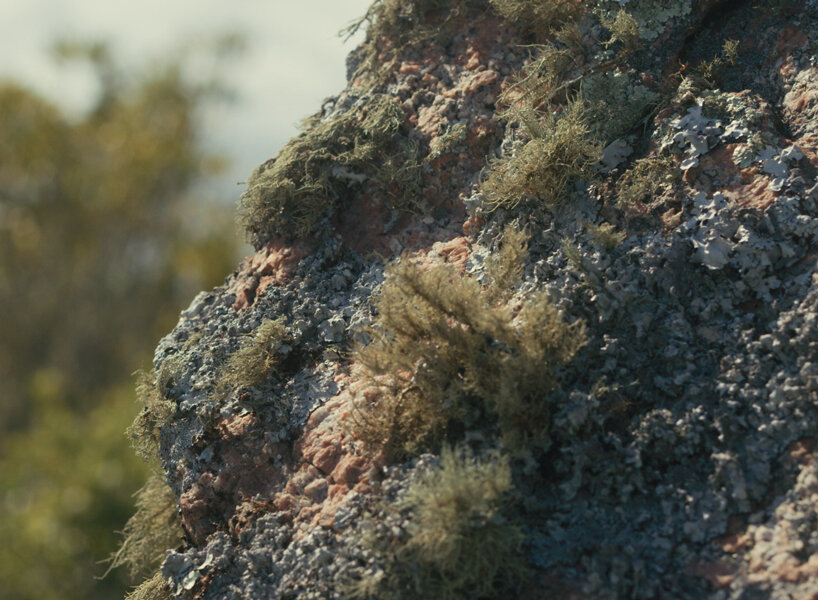 the heart of the brand is in patagonia