Mexico is a paradise for medicinal plants, second in the world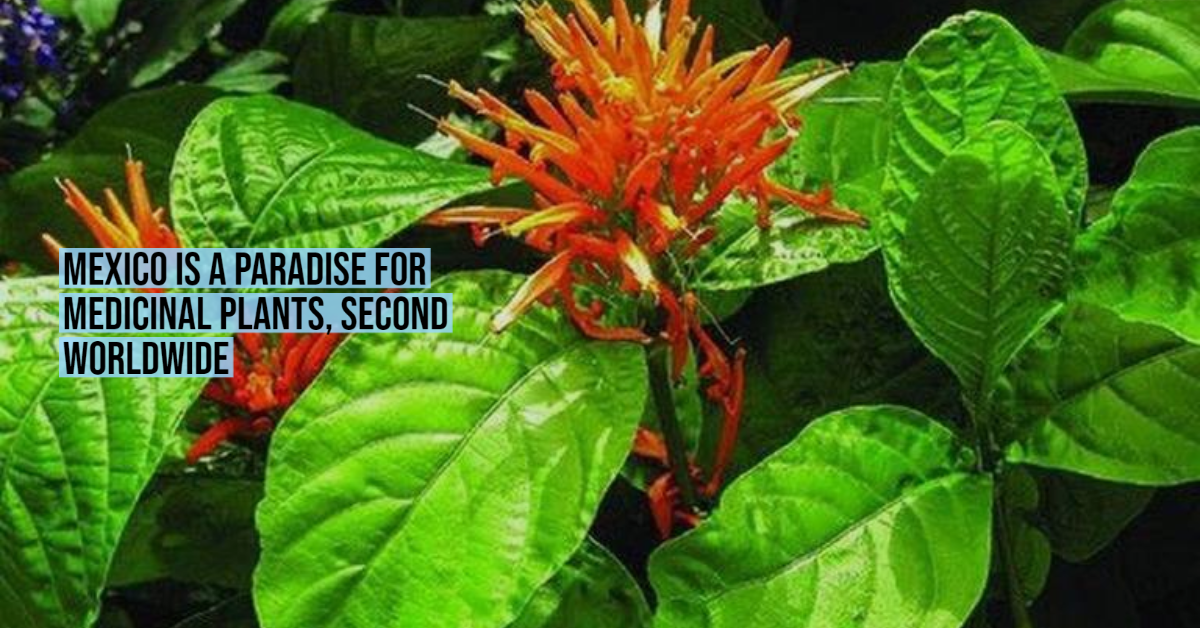 Mexico has a great floral wealth with 4,500 species. It ranks second in the world in the register of plants for medicinal use, only after China, said science professor, Balbina Vázquez Benítez, who pointed out that 90% of the population uses or has used a medicinal plant; however, only 5% of species have scientific studies.
In addition, the researcher of the Faculty of Higher Studies ( FES ) of Zaragoza, of UNAM, said that the Mexican Institute of Social Security (IMSS) has documented 3,000 species of medicinal plants, despite the fact that the Mexico has 4,500.
In the Dialogue program of the National Institute of Forestry, Agricultural and Livestock Research (Inifap), of the Ministry of Agriculture, it was said that the country has an enormous wealth of plants for medicinal use.
But further studies, identifications and protocols are needed for its propagation and production, in addition to avoiding overexploitation and damage caused by the loss of ecosystems.
Professor Vázquez also suggested that around 250 native and exotic species are in trade, most of which come from the wild, for which it is necessary to have comprehensive establishment plans in protocols for their propagation and production in order to expand diversity.
And Inifap researcher and plant biotechnology specialist Salvador Horacio Guzmán Maldonado warned that when the medicinal use of certain plants is excessively promoted, there is a risk of overexploitation and species extinction.
He said its uses must be considered so as not to harm the environment. Overexploitation can wipe out native plants.
The researcher of the Institute of Biology of UNAM, Sol Cristians Niizawa, considered that the recovery of the traditional recognition of medicinal plants should be reassessed and regularized, through regulations and official documents, the possibility of producing and market remedies. and medicinal plants.
---
Receive the PVDN newsletter, exclusive content and Whatsapp messaging for emergency alerts, by becoming a PVDN supporter, become a sponsor here. Or if you'd like to make a one-time donation to show your support for independent news, donate here.
---
He believed that TK should be saved. And he recalled that there are official standards such as the Herbal Pharmacopoeia of the United Mexican States, which has more monographs of plants from other parts of the world, but which are used here.
Dr. Abel Cruz, from Bionatura, said that Mexican herbalism is a paradise, with a fundamental inventory. He argued that there is a misuse of herbal medicines, so learning about their use should be encouraged.
He considered essential the funding of scientific research for the identification and recovery, use and effects of medicinal plants. "This opens up the possibility of educating people about its benefits."
Trending stories right now on PVDN
'Do not travel to Mexico': CDC updates maximum risk travel alert

The US Centers for Disease Control and Prevention (CDC) updated its COVID travel alert for Mexico on Monday, recommending against visiting the country. In their update, the center highlighted the risk of being infected with the SARS-CoV-2 virus when traveling to Mexico even if visitors have their full vaccination schedule. In December, the…

Puerto Vallarta expects 19 cruise ships to arrive in February

Puerto Vallarta will welcome 19 cruise ship arrivals during the month of February, according to the city's maritime authority. After 18 recorded arrivals in January, boating activity in the city remains stable during the month of February, starting on Day 1 with the arrival of the Carnival Panorama cruise ship, and…

Mexico's COVID-19 deaths on the rise with new fourth wave daily record

The Ministry of Health (SSa) has released updated figures on the COVID-19 pandemic in the country. As of 5:00 p.m. on Tuesday February 1, a total of 4,985,689 infections and 306,920 deaths have been recorded since the start of the health emergency. With these figures, in the last 24 hours, 43,099 infections and 829 deaths have been added to the statistics, the highest…

Migrants protesting in southern Mexico threaten to form a new caravan

Hundreds of migrants in the southern Mexico town of Tapachula protested the government's slow visa approval process on Thursday and threatened to form a new caravan heading for the US border. The migrants, mostly from Haiti and parts of Latin America, were stranded in Tapachula, Chiapas state, while enduring…

ADO crash kills eight on Mérida-Cancun highway

An ADO passenger bus accident on the morning of February 6, near the community of Nuevo Xcán, Quintana Roo, has so far resulted in 19 injuries and 8 deaths. According to official information, the passenger bus of the ADO company overturned after a dump truck loaded with equipment…