More than 100 medicinal plants found in Khushab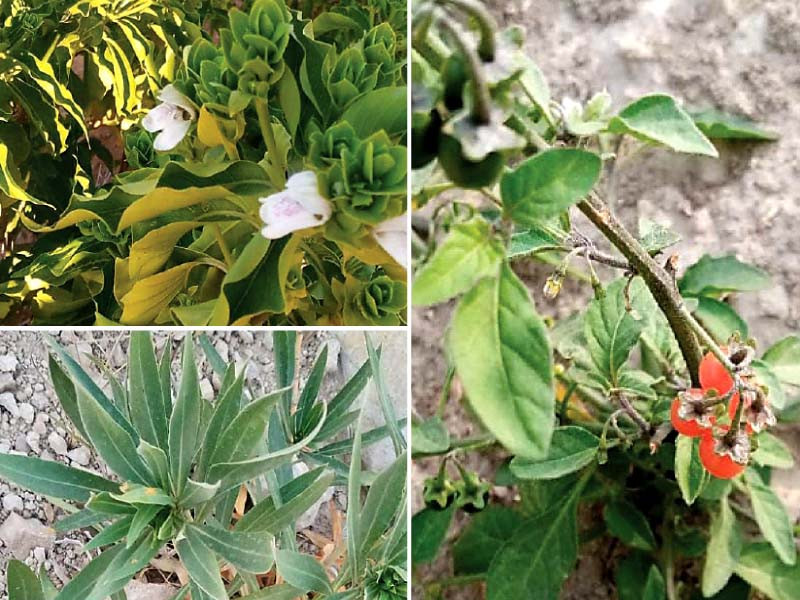 KHUSHAB:

More than 100 medicinal plants are found in the hills and other areas of Khushab district, and millions of rupees are earned locally every month from these traditional medicines.
Foreign experts also collect valuable herbs themselves from the mountainous regions.
Experts say that using home remedies can be dangerous to your health and can sometimes be deadly. Therefore, the general public should use traditional medicines only under the guidance of a licensed physician.
Naveed Ahmad, a botanist and folk medicine expert, named a huge number of medicinal plants found in Khushab district, including wild okra whose medicinal name he said is Abelmoschus esculentus, Phalai (wall of 'Acacia Modesta), Desi Cactus (Acacia nilotica), Onion (Allium Cepa Linn) and many more.
Their fruits, flowers, leaves, barks, seeds and roots are used in medicine while potions, powders, capsules and tablets manufactured by different companies are available in the market.
A former Khushab district health officer, Dr Malik Nasir Khan Awan, told the Express Tribune that in rural areas some of these harmful drugs were used in popular councils without the advice of a doctor, which caused health problems.
In fact, these native drugs can be deadly. Therefore, it should not be used without a doctor's prescription.
Hakim Mohammad Aslam told the Express Tribune that very valuable herbs and medicinal plants have been found in the Soan Valley area of ​​Khushab district.
If the government sponsors people, millions of rupees in revenue could be generated and other medical institutions could also benefit from these indigenous medicines.
He further stated that medicinal plants and herbs were used by local and foreign pharmaceutical companies. If the government paid attention to it, the government and the people of the region would benefit.
Malik Farooq Awan, agriculture manager of tehsil Nowshera, Soan Valley, told The Express Tribune that while Ajwain, Asli, Tukh Malanga and Ispaghol were grown in the Soan Valley, and the government provided information and facilities to local owners, it would be more profitable. at very low cost.
Divisional Forest Officer Naseem Iqbal Butt said an agency had been set up under the name Non-Timber Forest Products to regulate medicinal and non-timber plants.
Reports of completely non-timber and medicinal plants were also sent from Khushab district.
Non-wood products also include minerals, trees and plants that are not included in wood, and its wood is not used for burning wood.
Published in The Express Tribune, January 13and2022.